The E-2 Visa for an E-Commerce Business
In this post I discuss the possibility of the E-2 visa for an e-commerce business…
Recently, I had my first successful e-2 visa application for a client with an e-commerce business. In the past, I had avoided these cases, but I now realize that I was wrong to do so.
Why Did I Avoid E-Commerce Cases?
People tend to operate e-commerce companies on a smaller scale. And the US government doesn't like that. One specific requirement of the E-2 visa that creates headaches for entrepreneurs states…
[The] Enterprise Must Be More Than Marginal…A marginal enterprise is an enterprise that does not have the present or future capacity to generate enough income to provide more than a minimal living for the treaty investor and their family.
The US government essentially wants to see that your business will create jobs for US workers. So, obviously, one person businesses that do not require workers are a terrible fit.

Be Careful With This Common E-Commerce Business Model…
Now, I am certainly not an expert on e-commerce businesses, but from what I understand, one popular roadmap involves…
Sourcing products on Alibaba

Selling those products on Amazon

Using Amazon FBA services to fulfill the order
Under this model, you may not even have to touch the inventory. This sounds amazing! I would love to try this at some point for fun. But since many of these businesses can be run with no staff from abroad, e-commerce entrepreneurs should be ready to explain…
Why they need to be in the US; 

How they plan to hire US workers
My Client's Experience in Applying for an E-2 Visa for an E-Commerce Business
My client had to focus on two points to make his application successful.
We had to show that the business would operate on a scale that would require employees.

And, while technically not a requirement, we wanted to explain why his presence was needed in the US.
To give you some background on his situation, here is a rough overview of my client's E-2 visa journey…
From Japan, he formed a US entity and started an e-commerce business

He operated this company for about one year before he applied for the visa

The initial investment was relatively small(25k)

He used the investment to white label one product that he sourced from Alibaba

He sold this product exclusively through Amazon

Amazon FBA was used to fulfill the orders

As he generated revenue(200k in year 1), he reinvested everything back into the company
During that first year, he cumulatively invested $150,000 on E-2 eligible expenditures. Then he applied for the E-2 visa after he signed a lease for a new warehouse in the US from which he planned to fulfill future orders.
As we prepared the application, I was nervous about the fact that my client hadn't yet set up his in-house logistics operation. There was a warehouse that would require employees. Most of the current sales came from US customers. But my client hadn't yet hired US warehouse workers or other support personnel. 

The Keys to Victory
Ultimately, the lack of a fully established in-house logistical operation wasn't an issue. My guess is that the US embassy in Tokyo relied upon these favorable factors in making the decision…
The company had been generating significant revenue for over 12 months; 

There was significant capital in the company account to cover the warehouse operations;

The majority of the customers were in the US;

Cumulatively, the investment was over $150,000
Key Takeaways
In the end, my apprehension in accepting e-commerce cases was slightly misguided. Although the committed solopreneur will not be eligible for the E-2 visa, other entrepreneurs who want to operate on a larger scale—from within the US—should consider this route. 
In fact, this experience has led me to the conclusion that starting an e-commerce business(incorporated in the US) from abroad—and generating revenue for 12 months—could be a great first step in applying for the E-2 visa. This path has the following advantages…
Less financial risk since the company could continue to operate while the investor is abroad

Lower initial investment needed since you will reinvest profits before applying for the E-2 visa

Opportunity to demonstrate that the business is already operation and successful
Conclusion: E-2 Visa for an E-Commerce Business
So, there you have it. You can successfully obtain the E-2 visa for an e-commerce business.
My point in sharing this experience is not to suggest that I was the reason for my client's success. Without a doubt, my client's track record of running this business profitably was the biggest factor in his approval.
Hopefully this example is helpful in showing you that there are many types of businesses that can be started for E-2 purposes. And if you are considering the E-2 visa, I highly recommend that you reach out to one of the many amazing US immigration lawyers that you can find across the globe.
Thanks for your time!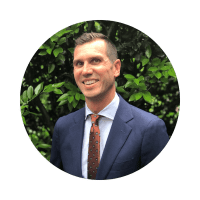 Benjamin Frear, Esq.
Immigration Lawyer For Entrepreneurs and High Growth Companies