INTRO: What Documents Are Required For The E-2 Visa?
In this post, I am going to give you some tips on how to answer this question…"what documents are required for the E-2 visa?"
The E-2 visa is a great option for entrepreneurs who want to start their own business in the US. People who explore this option want to know what they have to get the visa. And they want to know what documents will be required to show that they meet the E-2 visa requirements. 
I am going to cover that. But here is the caveat, the documents will vary depending on where you apply. 
For example, if you apply for E-2 status through a change of status filing, you will file form I-129. If you file through your home consulate or embassy—which I typically recommend— you will file forms DS-160 and DS-156E. And, there are different required documents depending on which consulate/embassy through which you will apply.
So how do you figure out what you have to present? 
Tips For Finding The Required E-2 Documents
If you are applying abroad, I recommend that you first visit the consulate or embassy website through which you will apply in order to find a list of required documents. Many consulates provide really helpful info showing what they are looking for in a new E-2 visa application. 
Here is a screenshot from the consulate in Toronto…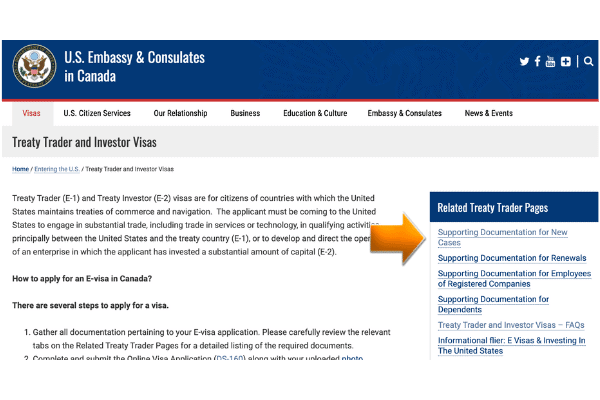 Unfortunately, not all consular posts are as helpful as the post in Toronto. So, what do you do if your home consulate or embassy does not show you what documents are required for the E-2 visa? In that case, as a first step, you can go to the Foreign Affairs Manual.
When you pull up the foreign affairs manual page that covers E visas, you will find a lot of good info about the requirements. Since you are interested in the E-2, you can ignore the information that relates to the E-1 and E-3 and scroll to the bottom of the page. If you do that, you will find a sample list of documents.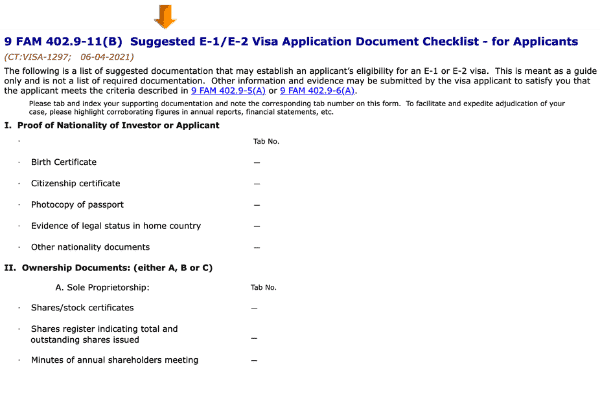 What Are You Trying To Prove With The Required E-2 Documents?
Here is a summary of what you are trying to prove with your documents…
NATIONALITY REQUIREMENTS
There are documents(ie. Passports and Birth Certificates) that demonstrate that you are a National of a country that has an E-2 treaty with the US.
SOURCE OF FUNDS
Other documents(ie. tax returns, property sale records, bank statements) are intended to show that your money came from a lawful source.
BUSINESS OPERATING/FUNDS AT RISK
Some documents are used to show that your business is operating and your investment has been committed. These documents can include formation documents(such as corporate registration or operating agreements). You can also present invoices, licenses, utility bills, bank statements, sales agreements and marketing materials which show that business is active.
MARGINALITY
Some documents will be presented in an effort to demonstrate that your business will provide support for people other than yourself and your family. These documents will include a business plan with personnel projections for the next 5 years. If you have existing employees, you will present W-2s, 1099s and payroll statements.
INVESTOR'S POSITION IN THE COMPANY
In order to show that you are in a position to direct and develop the business, you will probably present your resume. You will also typically provide a summary of your professional experience through the business plan.
NONIMMIGRANT INTENT
Your nonimmigrant intent will be shown through a letter describing your intention to leave the US at the end of your E-2 status. You may also add bank or property records in your home country to prove your intention to return. 
COVER LETTER
Last but not least, you will present a cover letter which explains in detail how you meet the E-2 visa requirements. The cover letter—along with the business plan— work to tie everything together to show the US government official that E-2 status is appropriate.
Conclusion–What Documents Are Required For The E-2 Visa
I hope you enjoyed this broad and quick overview of E-2 visa required documents. And there is a lot more that you should know about this topic.
If you are interested in the E-2 visa, please reach out to one of the many amazing US immigration lawyers that you can find across the globe. They can give you valuable guidance that is tailored to your unique situation.
Thanks for your time!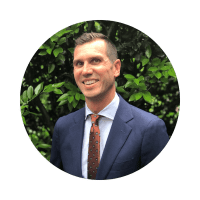 Benjamin Frear, Esq.
Immigration Lawyer For Entrepreneurs and High Growth Companies