In this post, I share an E2 change of status example. I will cover my client's decision to file for change of status, his investment and the application process.
The Decision to File for Change of Status
If you have read some of my other posts, you probably know that I am generally not a big fan of filing for change of status. This is due to a few different reasons:
A change of status application does not result in an E2 visa

An approved change of status application does not guarantee that your visa application will be approved when you eventually apply

Even though the primary applicant can apply for premium processing which guarantees a fairly fast decision, the family members cannot use premium processing
Despite all of the drawbacks, in my client's situation, I was 100% in favor of applying for a change of status because the embassy in his home country was not scheduling E2 visa applications at the time. After we discussed other alternatives such as applying as a 3rd country national in a different country, he concluded that the E2 change of status application, while not ideal, would be the best option.

My Client's Dream Business
My client had a successful career in banking, but he always had a passion for coffee. He was a certified barista and he wanted to use his passion, knowledge and business management experience to run a coffee shop in the United States. 
When he reached out he was already in the US on a visitor visa. I explained that a successful E2 change of status application would require him to place his investment at risk and set up the business before applying. 
This is really scary since a successful E2 change of status is never a sure thing. In a nightmare scenario, you could spend a lot of money to set up a business that you are not able to run. Since my client wanted to pursue his dream, he pushed these fears aside and took the steps that were necessary to make his dream business a reality.
My Client's Actions
During a four month period, my client completed the following steps:
Formed an LLC, applied for an EIN and opened his business account

Once the business account was opened, he transferred personal funds into the business and began spending on everything he needed to set up the business. The purchases included an espresso machine, equipment, website development, professional fees.
He signed a lease for a beautiful historic space in a high traffic downtown location and paid in advance for rent and renovations.
His total investment at the time of making the application was about 80k which included 10k in the operating account.

The Application Process
My client applied for the E2 change of status after he obtained the required permits to run the business. His application package included:
Conclusion: E2 Change of Status Example
Since my client did everything right, I was not surprised when he was approved three weeks later. However, I was pleasantly surprised that his wife's change of status was approved around the same time. And although my client deserves the vast majority of the credit for this successful process, I was very proud to play a small role in helping him open up his dream business in the US.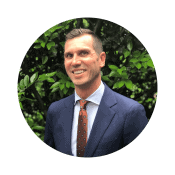 Ben Frear, Esq.
Immigration Lawyer for Entrepreneurs