How Much Does the E2 Visa Cost in 2023?
In this short post, I answer this popular question: How much does the E2 visa cost in 2023?
For those of you who are unfamiliar with the E2 visa, it is a visa that enables foreign national entrepreneurs to direct and develop a business in the United States after making a qualifying at-risk investment in that business.
The good news is that there is no minimum investment amount. But, here is the catch… you must show that you have spent enough to make the business successful. Therefore, since every business is different, the qualifying investment amount will vary depending on the business model. If you want guidance on whether your investment will qualify, you should reach out to an immigration lawyer who can give you advice that is tailored to your unique situation.
The focus of this post is not on the required investment. Instead, it focuses on the other E2 visa costs that are associated with the application process. There are three main categories of other costs that I will address. These include professional fees, visa fees and reciprocity fees.
Professional Fees | E2 Visa Lawyer and Business Plan Writer
The overall cost of your E2 visa will vary depending on the level of assistance you receive. So, I would like to give you a quick run through of the possible fees. Now it is important to note that I don't know exactly what other professionals charge. I haven't conducted any research or surveys. But since I am an immigration lawyer that primarily handles E2 cases, this is my general understanding of some of the professional fees that you can expect. Of course, if you have decided to handle these tasks on your own, you can skip this section altogether.
Immigration Lawyer
If you hire an immigration lawyer, you will probably pay somewhere between $4,000 to $10,000 to assist with the application. This is a lot of money, but the legal fee can be applied towards the investment total and working with a quality lawyer should make the process smoother and less stressful.
Business Plan Writer
A well organized business plan can make a huge difference in an E2 visa application. Therefore, I typically advise my client to obtain a professionally crafted business plan that is tailored to the E2 visa process. Based on my conversations with clients and providers, these will typically range from $1,500-3,000.
E-2 Visa Fees
So the professional fees will vary, but the visa fees are uniform. When you apply for the E2 visa, the main applicant and each dependent family member will complete a form DS-160. After this is completed, each applicant will be required to pay the visa fee. At the time of this recording the
fee is set at $315 per applicant. To check the current fees, go to the state department website where the various visa fees are clearly listed.
Reciprocity Fee
Ok, so what is a reciprocity fee and how do you know if you have to pay it?
The state department addresses these questions on their website…
Nonimmigrant visa applicants from certain countries*/areas of authority may be required to pay a visa issuance fee after their application is approved. These fees are based on the principle of reciprocity: when a foreign government imposes fees on U.S. citizens for certain types of visas, the United States will impose a reciprocal fee on citizens of that country*/area of authority for similar types of visas.
So, in the E2 visa context, if a country charges US citizens for an E2 visa(or an equivalent visa), we will in turn charge their citizens the same fee before they will be issued an E2 visa.
To view the Reciprocity Page for your country, you will look at the visa reciprocity table that is posted by the US Department of State and navigate to your country and then look at the E2 column.
These fees vary depending on your nationality. For example, the fee for Canada and the UK is currently $0. The fee for Italy is $198. The current fee for Australia is a whopping $3,464. And to make matters worse, the reciprocity fee is due for each applicant. So, if you have a family of four and all of you are using your Australian citizenship to apply for the E2 visa, then you will have to shell out a total of $13,856 before you are issued the visas. Fortunately, you will not be charged this amount until your visa application is approved, but still that is a lot of money.
Summary: E2 Visa Cost in 2023
So to summarize the typical E2 visa cost at the time of this writing…You can expect to pay $0 to 13,000 for professional fees depending on the level of service you require; the E2 visa fee will be $315 per applicant and the reciprocity fees will range from $0 to over $3,000 depending on your country of nationality.
I hope this information was helpful.
Thanks for your time!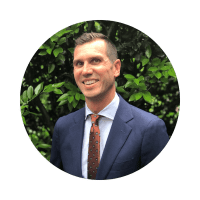 Ben Frear, Esq.
Immigration Lawyer For Entrepreneurs and Investors